HOW TO DOUBLE YOUR PROFITS IN TWO YEARS OR LESS

Every company -- regardless of the circumstances -- has the potential to double profits within one or two years. Doubling means different things to different companies. For companies that are presently losing money, it may mean a rapid conversion of those losses into significant profits. For those that are marginally profitable, it may be a multiplication of profits to a substantial level. For those that are already very successful, it may be a rise to unprecedented levels of profitability.

Whatever your company's profit goal, Double It! 3 Strategic Planning software is designed to help you achieve it. The program takes you through a process to become more aware of ITS potentials for growth
and to formulate strategies and plans for elevating ITS performance. Double It! is based on a knowledge of the fundamental process by which businesses grow, as discussed in several management
books:
| | |
| --- | --- |
| | -- The Vital Difference Unleashing the Powers of Sustained Corporate Success by Frederick Harmon and Garry Jacobs |
| | -- The Vital Corporation How American Companies Large and Small Double Their Profits in Two Years or Less by Garry Jacobs and Robert Macfarlane |
| | -- Playing for Keeps by Frederick Harmon |
When these authors first set out to write their books, they were determined to understand the fundamental nature of business. They asked themselves what a company is really made up of, and perhaps more importantly, how does it grow. They sought to understand what the core components are that make up a company; where a company's energy, force, power, and results come from, and whether there was a process that could be followed that determines the growth and development of a company. After analyzing hundreds of businesses over a couple of decades, their research resulted in definite answers to all of these questions.


Energy Conversion Process -- First they discovered that there was a fundamental process that caused companies to grow, and the process begins with energy. They found out that focused energy is what made companies grow and prosper. Their research showed that a typical company generally uses 5 to 10% of its innate energies, while the rest lies dormant, usually because of a lack of direction, motivation, organization, and limits of people's knowledge and skills. Any attempt to make improvements in these areas leads to very rapid growth and profitability.

Business Values -- They also discovered that a company's success could be measured by the degree to which business values were implemented. The more the company's values (such as "Quality of Product and Service", "Continuous Improvement", "Developing People", "Maximum Utilization of Resources," "Teamwork", and "Innovation") saturated every activity, system, and procedure in the company, the more it was energized, and the more rapid its growth and profitability.
Five Growth Engines -- Finally, they discovered that every company consists of five essential components for its existence -- Market, Technology (including products & services), Organization, People, and Finance. The strength of any company can be measured by the relative strength and weaknesses of each of these components. Any attempt to improve any engine (particularly the weakest ones) has a huge impact on the success of the company.
In summary, they concluded that any attempt to improve the company's Energy, its Five Growth Engines, and its Business Values had an almost instantaneous, overwhelming effect on growth and profitability. For example, one small engineering unit of $174,000 grew in 15 months to $2.7 million; i.e. 15 times, using this methodology. In company after company following this approach, small or large, they witnessed unprecedented acceleration of growth and profitability.



3 PHASE METHODOLOGY

Double It!'s 3 Strategic Planning Software consists of three interrelated phases:

PHASE 1: SURVEY -- Assess the Company's Strengths and Weaknesses

In the first phase of Double It! you evaluate the company's present position. Employees fill out a survey questionnaire, and their scores are entered into the program. Double It! then analyzes the data and comes up with a bill of health for the company.

Double It! analyzes the strengths and weaknesses of the company on three critical dimensions: how the company releases and utilizes energy, how it implements business values (such as quality of product and
service, continuous improvement, develop people, teamwork, innovation, etc.) and how it taps the powers of its five growth engines--marketing, technology, organization, people, and finance. Based on the company's bill of health, top management will then have a better idea of what improvements to make and where to take the company in the future.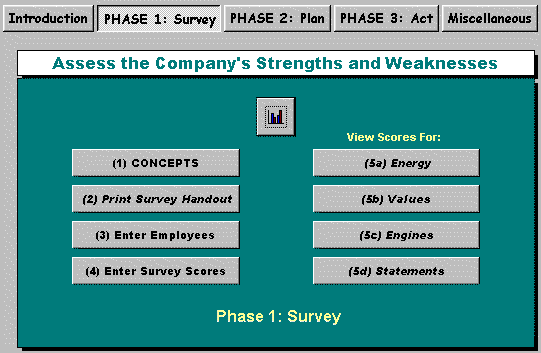 Phase 1 of Double It! 3's Navigator Interface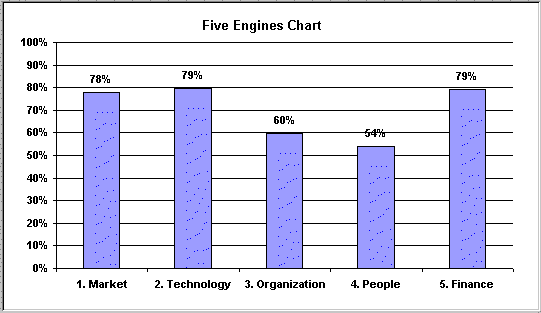 Sample Survey Results for Five Growth Engines
(one of many screens showing the health of the company)



PHASE 1 FEATURES
Print and distribute a built-in survey form to managers and other employees so they can assess the strengths and weaknesses of the company. Each employee responds to 100 + statements about
the company.

Survey statements are customized to your company's type of business (retail, manufacturing, wholesale/distribution, service). This provides much more relevancy to the survey, and survey
results.

You can also modify existing, add new or delete survey statements to really hone in on the issues facing your business.

View and print the survey results in three dimensions-- (1) Energy Conversion (i.e. awareness, direction, skills, etc. of the company), (2) Business Values (such as quality of product & service,
teamwork, honesty, and others), and (3) Five Growth Engines-market, technology, organization, people, and finance.

View the results on-screen in tabular format or as colorful column and bar charts; or print out the data from one of over a dozen built-in reports.

View, print survey score reports by department, management level, and detail, helping you easily focus in on very specific problem areas.

Colorful indicator flags tell you which scores are above and below the median within each of the three dimensions (energy, values, five engines); helping you decide which items to focus on for
improvement in the future.

View Energy Conversion and Five Growth Engines diagrams to better understand the concepts behind your company's survey results.

Values in the Values results screen that have been found to be critical to business success (such as Customer Delight, Develop People, Continuous Improvement, Maximum Utilization, and
Innovation) have been marked "Key," enabling you to see how company scored on these values so critical to the success of a company.

Copy survey detail results data to other programs, such as Excel, for even greater in-depth analysis of company survey's trends and tendencies.

Enter your own comments on the company's performance for individual energy, values, and engines results items so that you can reference this information in Phase 2 as you develop your
plan
PHASE 2: ACT -- Establish The Company's Direction

In the first phase of Double It! you determine where the company is at. In Phase 2 you determine where you want the company to go. In this phase you, in essence, build the Strategic Plan.

You establish the overall background information and context for the plan, formulate a mission for the growth and development of the company, establish both qualitative business values and quantitative
goals for the next few years, and identify strategies that the company will adopt to achieve its values and goals. Rather than developing the strategies from scratch, Double It!'s expert knowledge base of dozens
of built-in general strategies can help you focus on those strategies most relevant to your situation.. Then you can hone in on the very specific strategies that you want to implement in the future.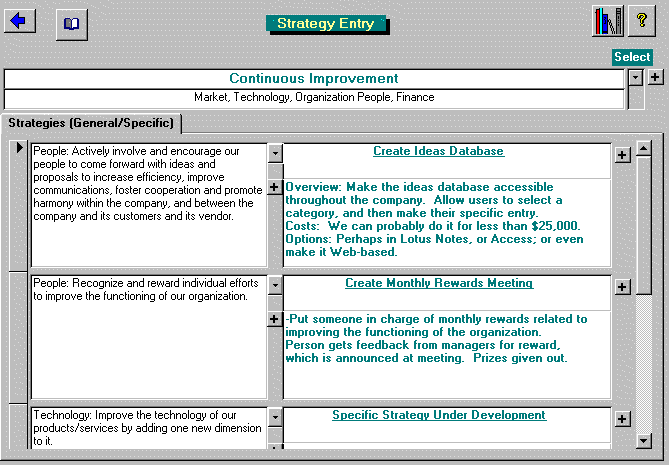 Strategy Entry
-For a previously established goal or value (upper screen), you build strategies (lower screen).
-You can use Double It!'s built-in strategies to help you develop the strategies you will implement.


PHASE 2 FEATURES
Decide where you want to take your business in the future. Double It! provides sample data for your particular type of business (Retail, Manufacturing, Wholesale/Distribution, Service, or
Custom) throughout all aspects of plan building. Use the sample data as is, modify it, delete it, and create your own entries from scratch. Review and print out the information you've entered from
over a dozen attractive built-in reports.

DESCRIBE THE CONTEXT FOR THE PLAN: Give an historical perspective of the company; list the opportunities presented; enumerate the achievements; list the challenges; enumerate the company's strengths and weaknesses using the Phase 1 survey information as reference; and develop a set of strategic issues facing the company. Then set preliminary values and goals, and establish a preliminary vision of what the company wants to become. Sample data is provided for your company's business type.

DEFINE THE COMPANY'S MISSION: Utilize the plan context information to prepare the company's mission statement, describing what the company aspires to become over the next few
years. Sample data is provided for your company's business type.

COMMIT TO HIGH CORPORATE VALUES: Establish the corporate values that can raise the performance of the company. Choose the values you want by analyzing survey results, reviewing
the plan context, and by reviewing a master list of dozens of built-in business values (each one explained for clarity). Add your own values to the master list. Sample Values Entry data is
provided.

SET YOUR GOALS: Establish the broad goals that the company wants to achieve through the plan. Set one or more quantifiable and measurable objectives for each goal. Sample Goals Entry
data is provided.

FORMULATE STRATEGIES TO ACHIEVE THE VALUES AND GOALS: Develop the strategies the company will employ to implement its values and achieve its goals. Develop your
specific strategies from Double It!'s list of insightful General strategies (grouped by the five engines; market, technology (products & services), organization, people, and finance). Double It! helps you hone in on just those strategies for the values and goals you established earlier. It's like having a built-in management consultant at your side! Sample Strategies Entry data is provided.
PHASE 3: ACT -- Set Actions for Accomplishment

In the first phase of Double It! you determine where the company is at now. In the second phase you determine where the company wants to go in the future. In Phase 3 you determine how the company is going to get there.

In Phase 3 you convert the strategies you set in Phase 2 into a set of time-bound actions for implementation by people in the company. For each strategy you establish the actions that need to be carried out, when the actions need to be carried out, who is responsible for each action, and what the current status of the action is. As you implement the plan you update progress on the actions, you can generate useful reports to monitor your performance, and identify those strategies and actions which require greater attention in the future. You can then utilied the action plan database to direct and track performance by activity, due date and responsible person.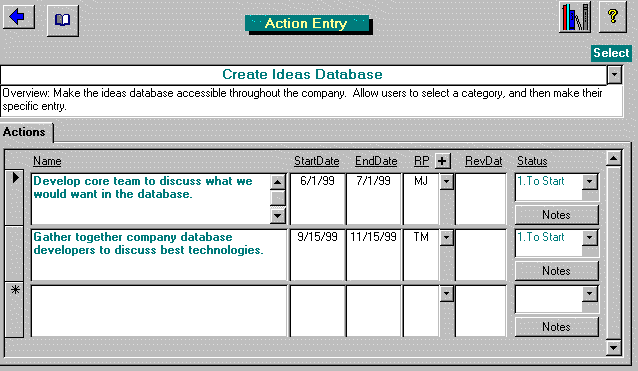 Action Plan Entry
For a previously established strategy (upper screen), you build action steps to implement (lower screen).


PHASE 3 FEATURES
List the main actions that the company will take to carry out the plan. For each strategy prepare a list of steps to be taken, identifying the primary person responsible for the step, as well as the start date and the end date for completing the step. View, print built-in reports of action steps grouped by-strategy, responsible person (RP), due date, and status. Sort, filter, move, copy/paste entries to see data in ways you want.

Update action steps to change the status of work as it is completed or becomes due, and make other revisions in the plan as necessary.

Survey Strategy Implementation--Print and hand out pre-created Strategies Analysis Survey handout. Have key employees rate implementation of strategies. Enter key employee ratings and comments about each strategy into program. Print out pre-created summary report. Then analyze
report to determine how to proceed with strategies in the future.

Other Tools:
In addition, Double It! has other tools to help you analyze and further build up the organization and the skill levels of people of the company.
CUSTOMIZED FOR YOUR BUSINESS
Double It! contains a customizable, business survey questionnaire, as well as sample plan context, mission statement, goals, values, and strategies for your type of business--whether retail, manufacturing, wholesale, or service. You simply select your business type and Double It! resets its knowledge base and expertise to that type.
DOUBLE IT! IS SIMPLE TO USE
Double It! is no ordinary program requiring a steep learning curve and a heavy manual. In fact, it's not a business program in the traditional sense at all. Double It! is really a learning tool that easily guides you through each step of its three phases. There's a powerful and easy to use push-button interface, called the Navigator, making Double It! simple and even fun to use. There's also an on-screen how-to guide,
one mouse click access to important underlying concepts, pop-up feedback text that indicates what to do and when to do it, and user-friendly graphic icons and screens that make learning and doing a seamless, enjoyable experience.
BUILT FOR PEOPLE DOING STRATEGIC PLANNING
Double It! is appropriate for the following types of businesses:

Manufacturing
Retail
Service
Wholesale/Distribution


Double It! can be used by people in the following positions:

Administrators
Business Students
Chief Officers
Consultants
Managers
Planners
Presidents, VPs
Program Directors
Small Business Owners
and others
Program Requirements
Double It! requires a Pentium-class IBM-compatible computer with 16mb of memory (32mb+ suggested), and Windows 95, 98, or NT 4 or later.
Apple Macintosh users need a G3 class computer and a Windows 95, 98, or NT Emulator, such as Virtual PC.
Program Pricing
Double It! 3 strategic planning software is available for $295, and is available for purchase at this site.
Obtain Program
More Information